What is more exciting than decorating a baby's first room? While waiting for your baby to arrive, you can select paint colors, design curtains and bedding, shop for furniture, and come up with an interior decorating theme if you so desire.

First of all, decide on a location for the baby's nursery. The nursery should be away from the active parts of the house, but close to your bedroom so you can hear the baby during the night.

Once you pick the room, decide how much needs to be done to it. Will a paint job and new furniture cover it, or do you need to completely remodel? Decide what features the nursery must have, and which you can live without. You'll need to come up with an appropriate budget for your project as well.
Design your nursery to be both functional and fun. At the very least, a nursery should contain a crib, a dresser, a changing table, and a rocking chair. Accessories should include good lighting and a baby monitor, as well as items, such as mobiles, that will amuse and engage your baby.
When deciding how to decorate your baby nursery, choose a look that will be able to grow with the child. Pick a theme, style, or motif, and select your furnishings and accessories based on your ideas.
Make sure that your baby's nursery is a safe environment by baby-proofing it. Put covers on all electrical outlets, and make sure there are no dangling electrical cords. Use only blinds and shades without looped cords, and install child-proof locks on drawers and cabinets. Cribs should not be located in front of a window, and all furniture should be properly assembled. Finally, check the room frequently for any choking hazards, and make sure smoke alarms are in good working order.
---
Copyright © Zeducorp.
All rights reserved.

Baby Nursery Furniture
Related Images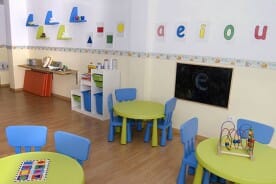 Colorful Nursery Schoolroom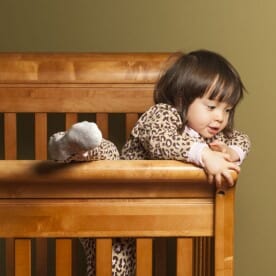 Baby Climbing Out Of A Crib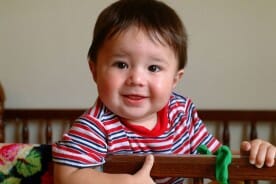 Baby Boy Standing In A Wooden Crib